BlueScope steel was formerly a business within BHP Billiton that became and independent company in 2002. With well known brands such as COLORBOND®, ZINCALUME® and GALVABOND® BlueScope provides engineered building solutions to meet a multitude of end uses.
The BlueScope steel works at Port Kembla has been producing steel since 1928 and today supplies the local market with over 1,000,000 tonnes of steel per year. Employing around 5,000 people the steelworks has had to focus on reducing costs to remain viable.
Feed stock for the blast furnace is an iron sand material transported by the 501 belt conveyor. The iron sand is highly abrasive and carry back on the belt is causing severe lagging wear on a number of critical pulleys – see photo#1 & 2
Lagging wear down to the pulley shell as shown in Photo#1 was occurring in as little as 2 years and once the steel shell was exposed this also began to wear.
Concerned that this shell wear could cause an unplanned shut down of the blast furnace and the replacement of the pulleys the Maintenance Superintendent at BlueScope Port Kembla asked PROK to recommend a solution that provided a service life in excess of 5 years.
As supplier of the original pulleys for this conveyor PROK had a good understanding of the requirements.
As supplier of the original pulleys for this conveyor PROK had a good understanding of the requirements. Wayne Stewart Applications Engineer at PROK was asked to work on this problem. With 30 years experience working in conveyors he identified a number of key requirements for the lagging in order to meet the service life target given by BlueScope:
Lagging had to be much more abrasion resistant than the existing diamond pattern rubber lagging.
The abrasion resistant surface needed to extend across the full pulley face width to cope with the belt tracking.
Lagging adhesion to the pulley shell had to very good to ensure there was no chance of debonding.
Tile bonding system that provides long term 100% rubber tear bonds to prevent tile loss.
The recommendation to meet these requirements was the PROK/Elastotec Hot Vulcanised Ceramic Lagging (HVCL). This lagging is a composite if highly abrasion resistant 96% aluminium oxide tiles bonded into a rubber backing strip. These strips are then applied to the pulley in a hot vulcanising process where the pulley is placed into an autoclave and the lagging is cooked onto the pulley at 140C under a pressure of 400KPa. This process guarantees a 100% rubber tear bond to the pulley which ensures there is no chance of the lagging debonding.
An additional feature of the recommendation was that the ceramic lagging coverage be extended to the full pulley face width with no rubber end pieces as are used by many lagging suppliers. This was important to eliminate the chance of the rubber end pieces being worn out as a result of the belt tracking from side to side.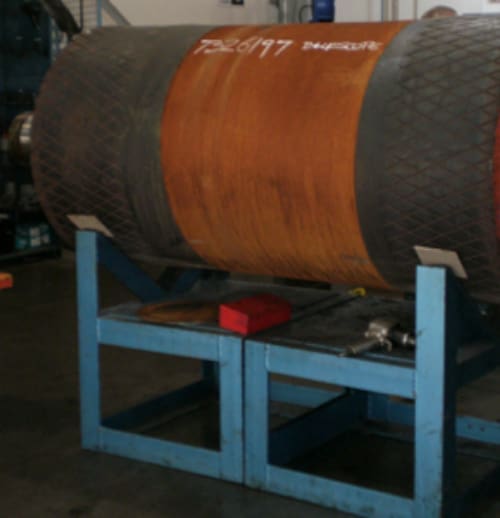 Photo #1

Photo #2
BlueScope accepted the PROK recommendation in early 2014 and the first pulley with the HVCL was installed in August 2014 – see Photo #3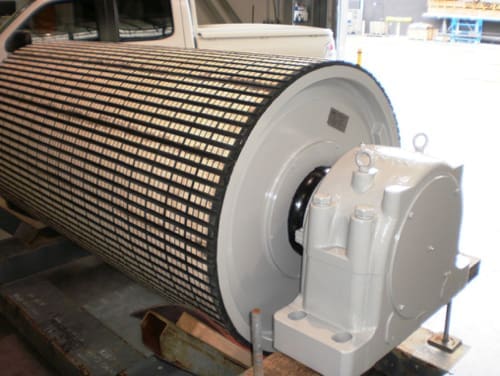 Photo #3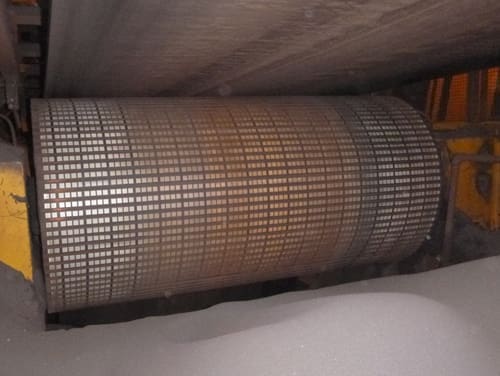 Photo #4

Photo #5
This pulley has been inspected at regular intervals since installation with ultrasonic measurements taken on the lagging thickness by BlueScope maintenance staff. At August 2016 there was no significant wear of the HVCL and there is a high degree of confidence that the 5 year service life target will be achieved. See Photos #4 & 5.
As a result of this performance BlueScope have committed to an additional two pulleys to be lagged with the HVCL and are incorporating this in the specification for all "critical" pulleys.
Wayne Stewart Applications Engineer for PROK says:
"Since 2012 PROK have installed over 200 pulleys with the PROK/Elastotec HVCL with remarkable results in a wide variety of applications."
To date there have been no reported failures.
For new pulleys and factory rebuild pulleys with rubber backed ceramic lagging we recommend the PROK/Elastotec HVCL because of the superior bond strength, elimination of joins and the proven longevity of the tile adhesion.
This provides our customers with:
Increased production
Reduced operating costs and
Lower OH&S risks"