Elastotec appoints Martin Sprocket & Gear as Approved Applicator in China
Martin Sprocket and Gear (Martin) is an international manufacturer of power transmission, and materials handling equipment including conveyor pulleys and idlers. Martin has 35 plants located throughout the USA, Canada, Mexico, Brazil and China. The company is focused on manufacturing high quality products, maintaining large inventories to ensure superior service to their customers, being contactable 24/7 and providing exceptional field support.
In 2016 Martin made the decision to manufacture conveyor pulleys in China to supplement the existing power transmission products and to provide local customers with a high-quality pulley option. Martin has invested heavily to establish a state-ofthe-art pulley manufacturing facility at their Changzhou plant. The plant has been fitted with new equipment for all stages of pulley manufacture.
Robert Giuntoli, Vice President – International at Martin believes there is a tremendous opportunity for the company in the Chinese conveyor market. "Martin will be supplying high-quality conveyor pulleys that will provide their Chinese customers with reliable operation, reduced production costs and increased output," says Robert.
A significant component of the performance of conveyor pulleys is the reliability of the pulley lagging. In 2016 Martin China made the decision to work closely with Elastotec – a specialist manufacturer of conveyor pulley lagging with a focus on longer service life. Greg Fogo, Group Manufacturing Manager at Martin China has more than 25 years experience manufacturing high-quality conveyor pulleys and had no hesitation in supporting the selection of the Elastotec Hot Vulcanised (HV) pulley lagging. Greg was convinced that the increased adhesion levels obtained in the HV process eliminated many of the problems inherent in cold vulcanised lagging application.
Elastotec manufacturers a range of technically advanced pulley lagging products designed to eliminate or minimise common lagging failure modes. A unique feature of the Elastotec approach is that they only work with approved applicators who use the Elastotec lagging and bonding systems and are trained to follow the Elastotec application methods. This approach ensures a reliable result and provides the end users with superior performance.
In January 2017 a three day training course was run by Elastotec for the Martin China production, quality assurance and sales staff. David Molesworth of Elastotec was impressed with the attitude of the staff and the level of commitment and attention to detail to learn the various application techniques.
Steven Miao, Sales Director for Materials Handling at Martin Sprocket and Gear is receiving great interest from pulley users across China and a number of countries in Southeast Asia. From the start of production in January the factory has been busy and Martin is now moving to the second stage of investment in equipment to manufacture large engineered pulleys up to 2,000mm diameter and 3,000mm face width.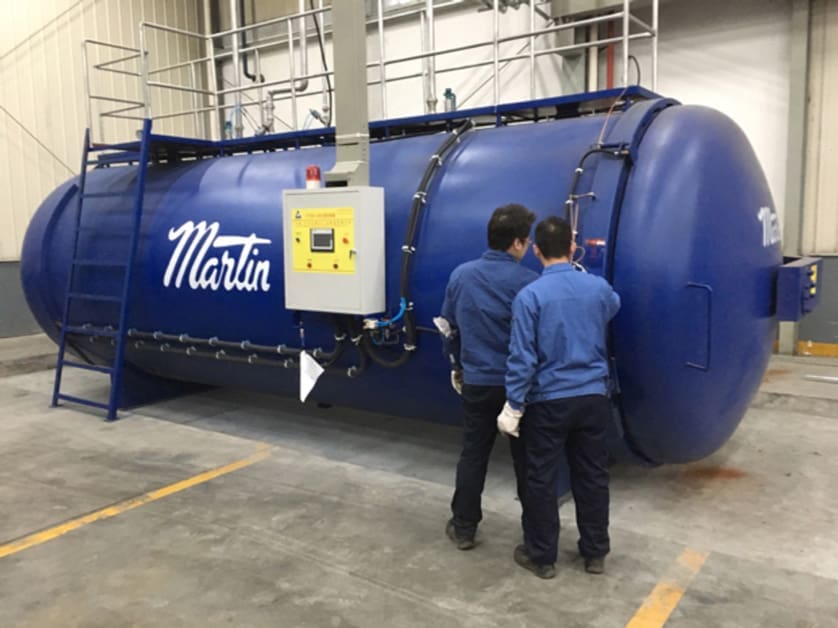 Martin has installed a semi-automated indirect heated autoclave for applying the HV lagging